We recently saw a boundary-pushing, co-op campaign, prison break game at the E3 even back in June. Below I will be going over all of the details that we know about the game called A Way Out.
Release Date and Platform for A Way Out
Sadly, there has been no "official" release date given out to the public. However, we do know that the game will be making an appearance in 2018 at some point. When we do have some more information, we will push an update so you know when the release date will be for the specific consoles.
On to the next subject, what consoles will A Way Out be coming out on? Luckily, the game isn't any console exclusive, so Xbox One and PS4 gamers will both be getting the game. On top of that, the game has also been revealed to be coming to the PC.
A Way Out Details
The biggest bit of information regarding the game is the fact that it is a co-op campaign. What does this mean? If you want to play this game, you will either need a buddy to play with or to play with a random gamer online. This is due to the game being played in split-screen.
It sounds like a bad idea, but the game has been designed around this split-screen system. By this, it means that you will be able to work together while knowing what the other person is doing. For example, one player may be watching a cutscene, whereas the other player can scout ahead and plan the next move. The aim of this is to give the players some form of connection to the character rather than just a game to grind through and finish without battering an eyelid.
Storyline
But let's get into the juicy details about the game. Obviously, we don't have a ton of information and the complete storyline. However, from what we have seen we can give you an insight of the storyline and what will be taking place.
Firstly, you can probably already tell that the game is set on two inmates, Leo and Vincent. From the name of the game, we can also tell that it will be set on the escape of the two inmates.
From the A Way Out trailer, we saw the inmates, Leo and Vincent, attempting to escape their way out of prison. Shawshank Redemption comes to mind when watching the trailer and not to forget Prison Break.
What else did we see? Amazingly, there was a playable section for people at E3. It didn't give too much away as the creators want to save that for release. However, the playable section started with the pair in a car. Funnily enough, the two are actually planning to rob a gas station. This is where the co-op set up came into play. One player could choose to take lead in the scene and take the gun. This was decided by both players coming to a mutual agreement on who was taking lead.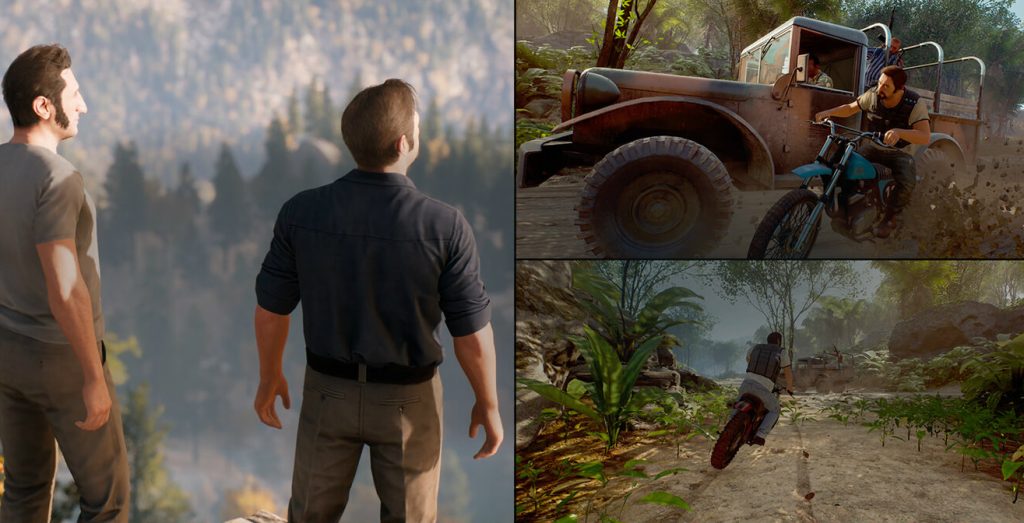 After entering the gas station, the players were free to split and do their own thing, staying on a mission of course. A lot of detail was put into this game. When the game releases you will see there are a ton of interact-able items. You might be thinking, you can interact with items in other games. However, this is taking it to another level. It might sound small, but an example is gumball machines. Players can literally walk up to a gumball machine and get a gumball. They can head to the fridge and crack open a cold one. The amount of attention to detail they have put into A Way Out is incredible!
Game Ending?
From the trailer, which I will link in below, surprisingly, A Way Out won't finish with the prison break. Instead, we saw footage of both characters roaming outside of the prison. Does this mean that the attempt to break out of prison was successful?
Rumors
After the E3 conference, A Way Out hasn't actually received any rumors. The game is pretty self-explanatory. We have trailers, we have information etc. Therefore, we currently have no rumors to share with you.
Pricing for A Way Out
As with the release date, we don't have an "official" price for the game so far. However, we'll be updating the article as soon as the game maker Hazelight Studios reveals it.
A Way Out Trailers
Above is the trailer that was presented to guests at the E3 Conference. You will be able to get a good idea of what will be taking place in the game as well as what you will be doing as both Leo and Vincent.