A review of Thieye E7 4K Action Camera
As a gadget reviewer, I often get free products from various online stores for the sake of an unbiased review. The same happened this week. Popular e-tailer GearBest sent me a review unit of a recently launched 4K action camera dubbed Thieye E7. Now, I am not a big fan of action cameras nor do I use one very often, yet I decided to give this bad boy a shot!
Before we get into the review of the Thieye E7, let's talk a bit about the firm that manufactures this camera. There is a hundred percent chance that you haven't heard about this manufacturer before, and we wouldn't blame you for that. Thieye is a relatively new player in this field, and they currently have only action cameras for sale in the market. However, as surprising as it sounds, their products cost hundreds of bucks lower than those from the competitors and still offers huge value for money.
---
Thieye E7's Design and Build Quality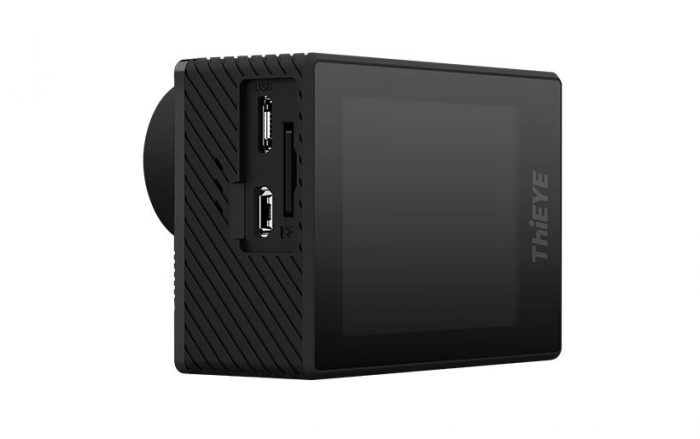 Well, the Thieye E7 looks like a standard action camera with a small rectangular matchbox shape featuring dimension ratio of 60 x 42 x 23mm. Up front, you'll see a wide-angle lens along with a power button, while the rear is fitted with a 2.0-inch IPS LCD screen with a display resolution of 320 x 240 pixels.
The top of the device houses the button to begin the shooting mode, while the right side features a pair of arrow keys designed to navigate across the menu. The bottom is where the battery goes, and on the left, you'll find several ports including micro USB, mini HDMI, and microSD slot.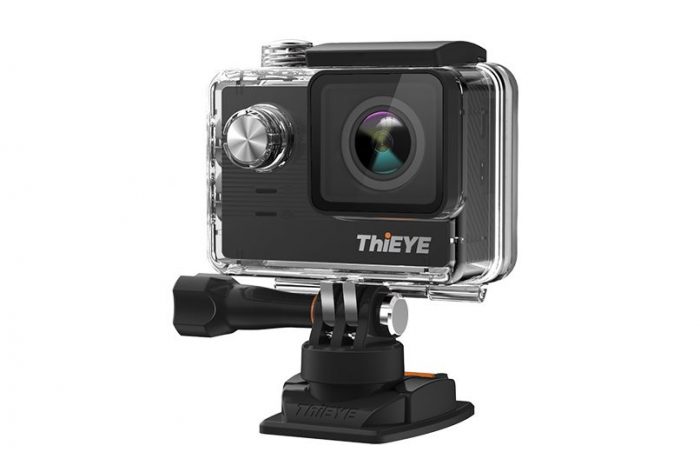 Although the Thieye E7 as itself is not water resistant, it comes with an IP68-certified casing that will protect the device against any possible damages in the water up to 1.5 meters. This casing could come in handy especially when you want to shoot videos in rain or underwater; however, it's worth noting that the device could become a bit hefty to carry around with the case put on.
---
Features and Picture Quality of Thieye E7
As I've said earlier, the Thieye E7 camera is undoubtedly a huge value for money. It comes with a plethora of features that we usually see only in action cameras that cost a couple of hundred bucks more. First of all, let's get this out of the way: The Thieye E7 is fitted with a 14MP, f/2.3 Panasonic image sensor which is capable of shooting 4K Ultra HD videos at 30fps.
The E7 camera has a 170-degree wide-angle lens that offers a wider field of view than your regular smartphones so that you don't miss any part of a beautiful footage. Besides, it supports several recording resolutions: 4K (3840 x 2160) at 30fps, 2.7K (2720 x 1520) at 30fps, 1080p (1080 x 1920) at 60/30fps, 720p (1280 x 720) at 120/60/30fps. And, photo settings are 14MP (4320 x 3240), 12MP (3648 x 2736), 8MP (3264 x 2448), and 5MP (2592 x 1944).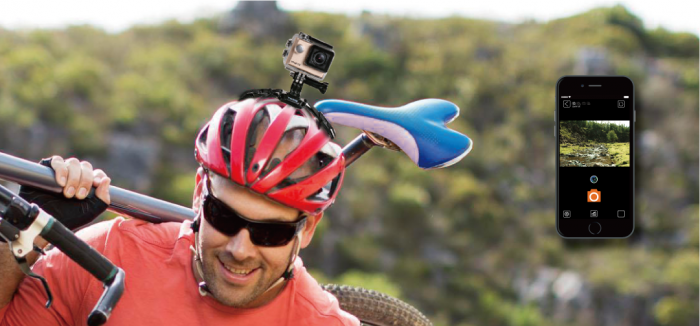 The best part about the Thieye E7 camera, however, is that it supports WiFi connectivity out of the box. You can easily view the pictures taken on the E7 action camera on an Android or iOS-powered device thanks to ThieyeApp. Further, with the help of a WiFi connection, you can also double your smartphone or tablet to act as a remote for the camera.
Another thing I liked about the Thieye E7 is that it comes with a tiny remote control. The remote lets you control several functionalities of the action camera with a click of a button. Speaking of which, you can start/stop the recording mode, capture pictures, and switch off the camera with the help of the remote control.
Thieye E7 Video Recording and Photo Modes
When it comes to video recording, you have the option to select any one mode among the following:
Slow Motion videos: This feature lets you shoot 720p videos at 120fps.
Time-Lapse: Using this mode, you can glue together several pictures taken at regular intervals of 1/3/5/10/30/60 seconds to convert them into a video.
Loop video: This mode is similar to the looping feature present on the GoPro action cameras; it lets you overwrite the beginning of your video in order to allow for new footage to be captured. It's a nice feature to have especially when the microSD card is running out of storage.
For photo capturing, the E7 supports the following modes:
Single Shooting: It's the normal photo capturing mode to take one picture at a time.
Photo Burst: It lets you capture 3/7/15/30 photos in a second.
Self Timer: You can use this mode to set a delay of 3/5/10/20 seconds before the camera takes a picture.
Time-Lapse photo: It's similar to the time-lapse mode for videos, but for the images.
Sure, the pictures and videos taken using Thieye E7 are not comparable to those taken using a GoPro Hero5 or other high-end alternatives. But, we shouldn't forget that the former comes for one-third the price of the latter. Surprisingly enough, the E7 did perform pretty decent in all our tests and we were able to capture some amazing stable videos even in shaky situations thanks to the addition of 4K anti-shake stabilization sensors.
---
Specs Recap of Thieye E7
Display: 2.0-inch 320 x 240p IPS LCD
Camera sensor: 14MP, f/2.3
Storage: no internal storage, supports microSD card up to 128GB
Audio: Mic and Speaker (mono)
Battery: 1100mAh Li-ion (rechargeable)
Connectivity: WiFi, micro USB, mini HDMI
Video Recording Modes: Slow Motion, Time-Lapse, Loop
Image Recording Modes: Single Shooting, Photo Burst, Self Timer, Time-Lapse
---
Thieye E7 Box Contents
Thieye E7 action camera
Waterproof Housing
Additional Skeleton Backdoor
360° Rotating Quick Release Buckle
360° Vertical Quick Release Buckle
Flat Adhesive Mount
Curved Adhesive Mount
Adhesive Sticker
Anti-Fog inserts
Battery
Micro USB Cable
Wiper
Cloth Bag
---
Thieye E7 Camera Review: Conclusion and Where to Buy
If you've been thinking of picking up a GoPro Hero5, but the hefty price tag is pulling you back, then the Thieye E7 is a great 4K action camera to look forward to. It comes with a very affordable price tag while not compromising on the build, features, and picture/video quality.
As an icing on top of the cake, GearBest is now offering a neat 4% off on the action camera, thus effectively bringing down the price to $99.99. Grab a Thieye E7 for $99.99 now.
---
Thieye E7 Video Review:
Disclosure: This article contains affiliate links. If you make any purchases through such links, we may receive a small commission from the online store.